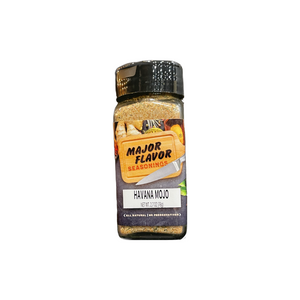 *ALSO AVAILABLE IN SALT FREE

4 oz Glass Jar (NET WT 2.7 oz)
8 oz Bottle (NET WT 5.1 oz) 
16 oz Bottle (NET WT 10.8 oz)
All Natural
No Preservatives
No Additives
No MSG
Vegan Friendly
Bold Flavors
Welcome to Havana, Cuba where the nightlife is jumping from the delicious food, refreshing mojitos, and doing the mambo to trumpet and saxophone riffs at the hottest night clubs.  Your taste buds will dance the tango from this zesty and flavorful blend.
Great on pork, chicken, beef, seafood, vegetables, and great as a marinade with a little citrus juice added to it.
Ingredients:
Salt, Onion, Garlic, Black Pepper, Paprika, Orange Zest, Cumin, Lime Zest, Lemon Zest, and Other Spices
Customer Reviews
04/30/2023
Anonymous

United States
I recommend this product
Havana Mojo
The reviews don't lie, this seasoning is amazing!
07/03/2022
Karla B.

United States
I recommend this product
Great
This is my second bottle. Ordered a bigger one this time. Great on chicken and pork
07/12/2020
Amy B.

United States
MAGIC!
This was SO good! Every member of the family LOVES when I cook "THATCHICKEN" (just Havana Mojo with a little olive oil and grill the chicken!)! DELICIOUS! Add a mojito on the side and it's perfection!